Blinds - Custom Made By Wylde's
Wylde's have a stunning selection of blinds that are custom made to your requirements. Choose from hundreds of fabrics, styles and sizes to create tailor made Roller Blinds, Roman Blinds, Timber Blinds, Vertical Blinds and Venetian Blinds.
Louvolite Vision Blinds
Controlling the light while maintaining the view, create an impact with Vision Blinds, a striking new window blind for the modern home. Vision Blinds are manufactured to the highest quality and come with the practicality of low maintenance. It is an innovative new window blind that features two layers of translucent and opaque fabric.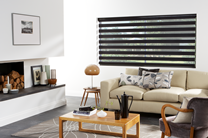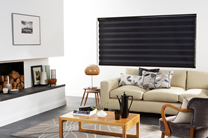 Translucent-Opaque Opaque-Opaque Privacy

Roller Blinds
There's an exciting new generation of roller blinds that give your windows today's fashion looks along with traditional value and hard-working quality.
Roman Blinds
Quality fabrics are a key to the durability of Roman blinds. Cleaning is as easy as a wipe with a soft cloth and the special coating resists stains.
Timber Blinds
Made to last, Wylde's can create timber blinds in a variety of colurs and styles which are flame retardant, easy to clean, low maintenance, and environmentally friendly, all at an affordable price. No rust makes timber blinds the ideal window treatment for bathroom, laundry, beach or holiday home. Excellent closure - Lighting and privacy control at your fingertips.

Vertical Blinds
Wylde's vertical blinds are highly versatile with a quality which is second to none and all for such a reasonable outlay. Our Vertical Blinds are ideal for sliding doors or windows and come with a trouble-free track system and metal, spring loaded clips.
Venetian Blinds
Wylde's Venetian Blinds take the elegant simplicity and timeless sophistication of venetians into an exciting new dimension. With over fifty fashion colours and shades to choose from, made to measure in your choice of 25mm, you'll find the perfect option to match and enhance any colour scheme and decor style.
Glissade™ Panel Blinds
Our exciting new Glissade™ Panel Glide System represents a revolution in home and office window furnishings. Divide open plan rooms or perfect for sliding doors. Ultra-modern and aesthetically stunning, Glissade™ features a patented sliding carrier mechanism, engineered for super-smooth and noiseless operation, every timeoption to match and enhance any colour scheme and decor style.
Cafe Blinds
Weather-proof your alfresco area with clear Cafe Blinds. Entertain all year round and select from motorised or manual styles. Made to highest standard using only quality materials you are guaranteed to enjoy the besnefits for many years.
Elegant beauty, plus famous precision engineering and long-life reliability. Our systems and components are manufactured by our own specialists to exacting quality standards and covered by comprehensive guarantees.